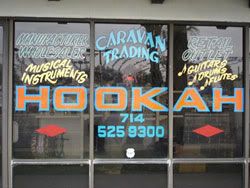 We are finally making some serious headway with the unpacking! Yesterday was spent rifling through boxes, inspecting, counting, and shelving the newfound treasures along the way. Although we finished only a very small section of the boxes that line the walls and shelves of the warehouse, our updated inventory shows no less than 34 new glass styles and colors! Unbelievable!



The rest of the boxes will be unpacked in a similar methodical fashion, mostly because doing so makes it so much easier to keep a tight control over the inventory. Of course, it also helps us to speed up the shipping process when we know exactly where a certain glass style is located on the shelves and to that end, we are mapping the warehouse shelves as part of the process. It's a lot of work, but it's so much better to do it all now so that we can reap the benefits of it for the remainder of the year -- or until the next container arrives, LOL!
A couple of regular customers came in while we were shelving glasses and helped us out. We have the best customers in the world! It was hard to tell who was more excited about all the new glasses -- us or the customers. As I assembled a few hookahs to take pictures so that I could get them listed on eBay, the guys pointed out their favorites:
One liked the clean, classic colors in the White Aswan with black and silver hoses.

The other one took to the Green Pyramid with black and silver hoses. I'm kind of partial to a King Tut glass but will post a photo of it later. It's time to get back to unpacking!